BUSINESS MATCHING - SOURCING FAIR FOR SUPPORTING INDUSTRY WITH BUYER 2021 (SFS 2021)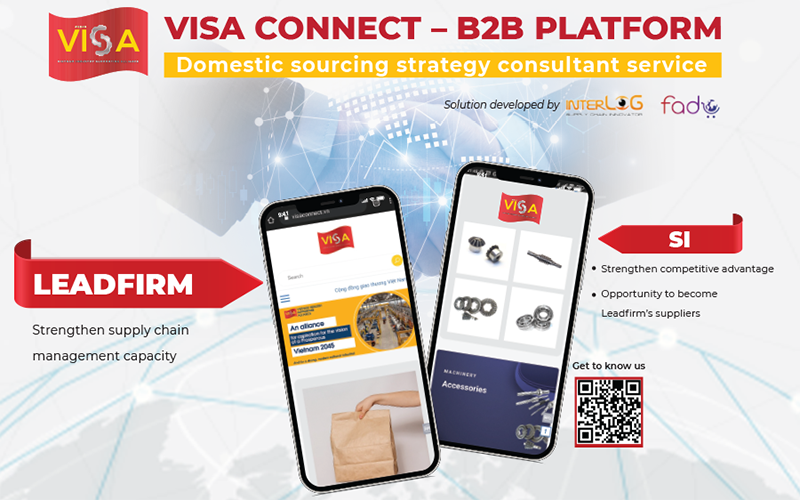 With a Strategy to support customers and an industrial ecosystem that changes the purchasing supply chain, it helps to cut Logistics costs and potential risks when purchasing from abroad. InterLOG has actively participated in trading connection activities with VISA Alliance. At the SOURCING FAIR FOR SUPPORTING INDUSTRY WITH BUYER 2021 (SFS 2021), InterLOG/ VISA Alliance will co-organize with the implementing agency of the Center for Supporting Industry (CSID) under the Ho Chi Minh City Department of Industry and Trade.
On October 5, 2021, Ho Chi Minh City Department of Industry and Trade issued Official Letter No. 4671/SCT-TTPTCNHT announcing Invitation Letter for FDI Enterprises, Lead Firms (Terminal Manufacturing Enterprises), and SI (Supporting Industry Manufacturers) participate in the SOURCING FAIR FOR SUPPORTING INDUSTRY WITH BUYER 2021 (SFS 2021).
This is an annual event organized by the Ho Chi Minh Department of Industry and Trade since 2018. After each event, the conference has supported connecting more than 300 transactions for 25 FDI Enterprises /Lead Firms with more than 100 Supporting Industry Manufacturers in Vietnam, aiming to create opportunities for FDI Enterprises/Lead Firms reduce logistics costs, control time, suppliers, and reduce liquidity risks when domestic purchasing. At the same time, it also assists Supporting Industry Manufacturers to have the opportunity to access the global supply chain, thus they can improve their competitiveness. According to statistics from the Vietnam Maritime Administration, in 2021 the cost of sea freight has increased by 10-15 times compared to 2020 and shows no sign of decreasing. Therefore, the solution to transform the purchasing supply chain towards Supporting Industry Manufacturers in Vietnam will be the right direction to ensure the continuity of production activities as well as effectively reduce logistics costs.
The event will be held on November 24 and 25, 2021 in both face-to-face and virtual formats. Online connection is an innovation of SFS 2021 to adapt to the Covid-19 pandemic with the desire to effectively support Lead Firms and Buyers and is expected to host 15 FDI Enterprises/Lead Firms and 200 Supporting Industry Manufacturers. VISA Alliance is a co-organizer with the Department of Industry and Trade under the cooperation agreement between the two parties about the purpose of connecting trade and oversees the virtual connection sessions. The virtual meeting format will support Enterprises to connect securely in the context of safely adapting to the new situation.
InterLOG is proud to be the consulting party of solutions to connect FDI Enterprises/Lead Firms with Supporting Industry Manufacturers of VISA Alliance and is also an active founding member who helped the Alliance obtains some achievements including:
- Trade connection for Japanese FDI Enterprises in Ho Chi Minh City Hi-Tech Park to approach more than 200 Supporting Industry Manufacturers to find suitable products. After the connection, 9 businesses have successfully participated in the quotation round and produced sample products in June 2021
- Negotiate connection with 3 FDI Enterprises for Supporting Industry Manufacturers in August 2021
- Survey in August 2021 and propose policies to assist businesses affected by the Covid-19 pandemic to state management agencies. InterLOG plays the role of researching and building solutions 'Green Manufacturer' model to help factory businesses adapt safely in the context of living with the pandemic and maintain continuous production in September 2021.
In this event, InterLOG was also trusted by VISA Alliance to advise on Logistics Solutions for FDI Enterprises/Lead Firms in the context of global supply chain disruptions leading to rising logistics costs tends to increase.
InterLOG and VISA Alliance have always believed in the butterfly effect of small changes that will make a huge impact in the future. Each business needs to boldly change the old way of doing things and change the supply and purchase order towards Vietnamese Supporting Industry Manufacturers to maintain its supply chain uninterruptedly and optimize logistics costs.